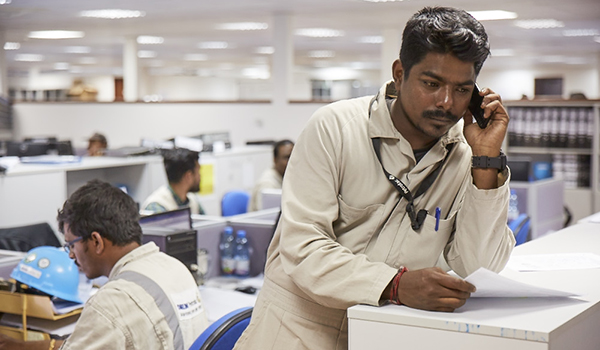 Project management
Strong project management capabilities underpin safe and successful projects.
Project management services are at the heart of our successful and sustainable project delivery capabilities.
The projects we deliver are typically large and complex, requiring strong management and control to reach a successful conclusion. Across our portfolio of lump-sum projects, in 2016 we delivered more than 200 million man hours and maintained an excellent safety record.
We use internationally recognised project management frameworks and processes as part of our quality management system for the management and control of all our projects, whether these are engineering, procurement, construction or commissioning projects.
Project management teams are usually involved from start to finish of a project, and are critical to its success. Our people have proven delivery capabilities, from concept stage through to execution, delivery and start up. Our project personnel are encouraged to study to become Project Management Professionals (PMP), an industry recognised certification for project managers. Today, many hold this certification.
Scale and complexity is never a problem for us. We have the man-power to cover projects of any size, and we tailor our teams based on the individual requirements of the client and project.
Our services include:
Project Management Contractor (PMC)
Engineering, Procurement and Construction (EPC) as well as Engineering, Procurement and Construction Management (EPCm) contractor
Project management services across the life cycle of an asset
Health, Safety and Environmental services
Project analysis: costs, schedule and risk management
Our methodology and processes capture the experience of our past projects, and the toolkit that we have built of system tools was created using our experience of designing, building and operating real facilities, and driving genuine operational improvement and benefits. Our procurement benchmarking database provides us with the optimum prices at which facilities can be built, and give us a real advantage when managing the procurement phase for clients.
Our reputation for project management delivery is built on:
Robust and consistent project management procedures that enable delivery safely, within schedule and on budget
Clearly defined project controls integrity processes
A project control model specific to PMC (Project Management Contractor) execution
Engineering processes that are tailored to project development
Engineering and estimating interfaces designed to ensure cost estimating integrity
Robust procurement systems and processes
A strong focus on health, safety, security and environment
Industry-leading technical software backed by a global IT infrastructure
Experienced project management personnel that deliver in accordance with our project management
Procedures and project specific execution philosophies
Managing projects is what we do best. To find out more email us. Contact dash@dashinspectorate.com or call whats app 00971508692438
We have completed over 200 EPC and EPCm projects in mature markets and emerging economies