Nut and bolts - Fastners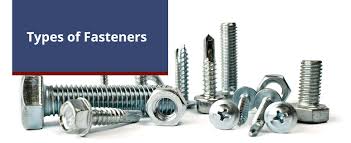 Stud Bolts/Nuts
Supplier of stud bolts for high temperature and high tensile applications in carbon steel, alloy and stainless steel. Higher alloys can also be supplied.
CATEGORY
PRODUCTS
Stud Bolts/Nuts
Stud Bolt
Nut
Stud Bar
| PRODUCT | MATERIAL | CONSTRUCTION | NORMS | GRADE | RANGE |
| --- | --- | --- | --- | --- | --- |
| Stud Bolts | | | A193 A320 | B7, B7M, B8, B8M L7, L7M | 1/4"- 3" 1/4"- 2" |
| Nuts | | | A194 | 2H, 2HM, Gr4, Gr8, Gr8M | 5/8"- 3" |
Stainless Steel Fasteners

Bolts and Screws
All Nuts
Washers
Self Tapping and Drilling Screws
other Items

High Tensile Fasteners

DIN Standard Fasteners
ASTM Fasteners

Marine and Rigging

Chains
Turn Buckle
D-Shackles
Wire Rope 7x19
Bow Shackle
Din 741 Wire Rope Clips
Din 3899 Thimble
O-Ring
Pulley
Snap Hook
Eye Screw
Dog Bolt
TYPES OF BOLTS, NUTS, AND WASHERS | A COMPLETE GUIDE ON FASTENERS
All fasteners perform the same function—mechanically joining and securing two or more parts together. However, differences in type, quality, shape, and material significantly influence the fastener's performance and service life. Understanding the functional varieties of the different types available, including nuts, bolts, and washers, is essential to selecting the appropriate fastener (and fastener supplier) for your project.
At Dash trading , we pride ourselves on offering a full range of stock and custom fasteners that provide durability and high performance at competitive prices. The following guide outlines a small selection of the types of fasteners available in our total inventory to help you choose the optimal product for your fastening application.
TYPES OF FASTENERS
Dash trading manufactures a variety of fasteners, including bolts, nuts, and washers.
TYPES OF BOLTS

Bolts are one of the most versatile structural fasteners, available in a vast array of configurations to suit different materials and strength requirements. These fasteners differ primarily in thread specification, length, and head shape, with varying combinations of these characteristics resulting in bolts with different functions. They typically require a drilled hole and a complementary nut, or tapped mating part for installation, and, unlike screws, they are generally not tapered. The terminology distinguishing between the types of bolts is often inconsistent and incorrectly used interchangeably for screws, so it's best to select your bolts based on your project specifications rather than the exact name indicated on a supplier's website.
Some of the types of bolts that we manufacture at Dash trading include:
Carriage bolts: Carriage bolts feature a domed or countersunk head with a square underside that prevents turning post-installation. They are often used with wood and masonry.

Flange bolts: Flange bolts are a specialized type of hex head bolt that has an integrated flange that serves as a washer component to more evenly distribute the load.

Plow bolts: Similar to carriage bolts, some plow bolts have a square-shaped countersunk top. Others have a domed design. These bolts are ideal for heavy-duty applications like industrial machinery.

Hex head bolts/ Hex Head Cap Screw: Characterized by their hexagonal head shape, hex head bolts are a broader category of bolts that requires installation with a wrench. They are available in many lengths and threading varieties. Hex Head Cap Screws have tighter tolerances and are the most common Hex Bolt category.

Square head bolts: Like hex head bolts, square head bolts are defined by their head shape—i.e., square. This head design facilitates tooling gripping, allowing for easier installation.

Socket Head Cap Screws/ Allen bolt: Socket head cap screws have a flat chamfered top surface with a smooth or knurled cylindrical sides. Forged heat-treated alloy examples are high strength fasteners intended for the most demanding mechanical applications, with special alloy formulations.

Additional bolt types: The other bolt types that we can custom manufacture include anchor, belt (e.g., eye, hook, J, and U), countersunk, lag, and T-handle bolts.
TYPES OF NUTS
Nuts are available in a variety of shapes, sizes, materials, and thread patterns. While your selection of a nut is somewhat constrained by your choice of bolt—particularly in terms of size and threading—you still should select the nut head shape and material that is most suitable for your application.The types of nuts we stock include:
Coupling nuts: A coupling nut is a longer, cylindrical nut that joins two male threads. This component can be used to add length to an installation.

Flange nuts: Similarly to flange bolts, flange nuts feature a round flange that acts as an external washer, and allowing for a more even load distribution.

Hex nuts: Hex nuts are hexagonally shaped. These nuts are extremely versatile but require a wrench for installation. The types of hex nuts we supply include finished hex, semi-finished hex, hex flange, hex jam, heavy hex, and slotted hex.

Lock nuts: Lock nuts are available in a range of shapes and are used to secure other nuts and prevent them from loosening. Types of Lock nuts include All Metal Lock nuts with Top or Side locking features, Serrated Hex Flange, and Nylon Inserts.

Slotted nuts: Slotted nuts are designed and constructed such that they can form a locking mechanism with a cotter pin or a safety wire.

Square nuts: Square nuts are characterized by their square shape. This head shape increases the surface area of the fastener and the amount of friction it experiences, reducing the risk of it loosening.

Wheel nuts: Wheel nuts are a broad category of nuts that are used in automotive wheel applications.

Additional nut types: The other nut types we can custom manufacture include cap, castle, conical, Keps, thumb, and wing.

TYPES OF WASHERS
Washers are disk-shaped components that provide enhanced control over locking and friction when used with other fasteners. These fasteners may also feature teeth, indentations, and other unique structural mechanisms for use in more specialized applications. In general, they serve a variety of functions, including preventing loosening of the fastener assembly, protecting the surface under a fastener, and distributing the pressure more evenly during installation and use.
Compared to nuts and bolts, washers have much fewer variants available. However, among the washer types, there remain important distinctions. Like nuts, washers should be complementary to your selected bolt and chosen to suit your unique fastening application.
Our range of standard washers includes:
Beveled washers: Beveled washers are formed with a slightly angled surface, allowing them to join materials that are not parallel to one another.

Flat washers: Flat washers are the most common type of washer. They provide a larger surface area for better load distraibution. Different thicknesses are available for a variety of hold strengths.

Lock washers: Lock washers come in many shapes, such as helices, toothed rings, conical, or spring, each designed to prevent slippage of fasteners in demanding applications. They are commonly used in environments that experience high levels of vibration.

Structural washers: Structural washers are one of the most heavy-duty washer options available. These thick fasteners are designed to withstand the high load pressures of construction.

OTHER FASTENERS
In addition to these three types of fasteners, Dash trading offers other fasteners—e.g., dowels, hose and shaft couplings, nails, pins, rivets, rods, screws, shackles, and studs— as both stock and custom fastening solutions.
EXTRA INFORMATION ABOUT FASTENERS
NBN Suggests you consult with an engineer to best identify which fasteners to call out in a specific application. There are many factors to consider when selecting a fastener. Other important considerations include understanding how individual fasteners work together to form a joint, use cases, thread patterns, and material and finishing options, employing an engineer will save money and headache in the long run.

USES OF FASTENERS

Fasteners find use in a variety of industrial applications, including:
Agriculture. In the agricultural industry, fasteners are used in field irrigation and filtration systems, drying units, and other farming equipment, buildings, and grain bins.

Automobile and transportation. Fasteners are used to assemble a wide range of vehicles, including cars, trucks, airplanes, and specialized construction equipment.

Building and construction. Scaffolding and other support structures used in building and construction applications require copious amounts of fasteners to ensure stability during use.

Chemical refining. In chemical refineries, fasteners are made using high performance, corrosion resistant materials, such as stainless steel, tool alloys, and exotic metals. They find application in equipment such as heat exchangers, tanks, and processing systems.

Marine. Fasteners employed in the marine industry require excellent corrosion resistance to withstand the long periods of exposure to saltwater that marine decks, ramps, bulkheads, and tanks experience. Materials such as stainless steel and aluminum are commonly used for marine fasteners.

Military. Military fasteners are designed to withstand extreme temperatures, corrosive compounds, and high stress environments. Common uses include heat exchangers, equipment motors and engines, and processing equipment.

Oil and gas. Similar to military fasteners, fasteners used in the oil and gas industries must provide consistent performance in high stress and corrosive conditions. These fasteners find application in processing equipment such as drilling rigs, tanks, and pumps.

Power generation. Fasteners for the power generation industry are made of high strength and corrosion resistant materials such as aluminum, copper, nickel alloys, stainless steel, and other steel allows. Typical applications include use in electrical equipment, exhaust systems, motors and pumps, and storage containers.

RIGHT-HANDED VS. LEFT-HANDED THREAD PATTERNS
Many fasteners, including nuts and bolts, feature threads to facilitate their fastening function. Threads are available in both right-handed and left-handed patterns. Although most applications use right-handed (i.e., clockwise running) threads, special circumstances require left-handed (i.e., counterclockwise running) threads to resist forces that would otherwise loosen the fastener.

FASTENER MATERIAL SELECTION & PLATING GUIDE
Fasteners are available in a wide range of materials and finishes. Choosing the right material and material finish for your fastening application is as essential as selecting the proper type, size, and shape.
The most common fastener materials are aluminum, carbon steel, and other alloys. However, manufacturers also use alternative materials, such as brass and plastic, for fasteners intended for specialized applications. For instance, silicone bronze is appropriate for aquatic environments.
Finishing options are also available to improve aesthetic or functional properties, such as increasing material strength or corrosion resistance. Some of the types of finishing that we provide include black oxide, hot dip galvanizing, zinc plating, and chrome plating, to name a few of the many plating options that are available.
Dash trading CORP.: YOUR SOURCE FOR QUALITY FASTENERS

At Dash trading , our experience allows us to offer high quality products and services to meet the fastener needs of a diverse set of industrial clients. We serve industries ranging from construction and transportation to alternative energy and mining, in each case, meeting and exceeding customer requirements.
Need help or have a question?
UAE:
+971508692438
INDIA:
+919825164743