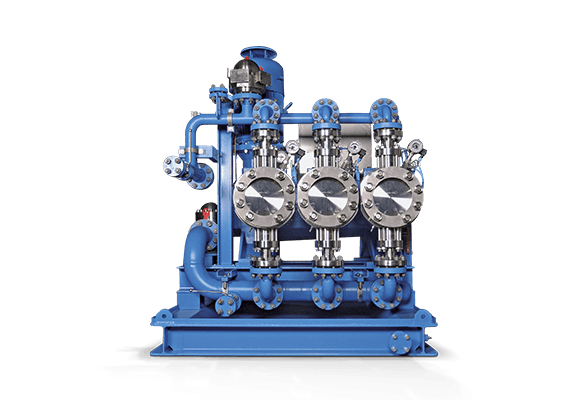 Pump Skids
DASHPROJECTS Skids
The ready-to-operate solution for specific tasks.
Do you need a turnkey pump skid or chemical injection skid? Look no further than DASHPROJECTS We offer a comprehensive service and complete project management: Our experienced engineers listen to your requirements and design the perfect skid for your application.
We don't leave anything to chance: We choose all the pumps, materials, and accessories for our pump skids. We guarantee the total function of the module, enabling us to provide a turnkey solution.
Our skids are designed according to specific requirements and the available space. And, of course, we take all national and international regulations into consideration. Our service covers everything from assembly, installation on frames, acceptance, and approval through to delivery, on-site installation, and commissioning.
Good reasons to choose a DASHPROJECTS skid
A DASHPROJECTS skid consists of a pump on a base plate with piping, accessories, and instrumentation.
Complete development from a single source
Pumps, accessories, design, and project management from a single source: We handle every stage of the project – from planning and construction right through to commissioning and subsequent maintenance. And our 60 years of industry experience make us a company you can trust.
Compliance with specific standards
All our pump skids are designed in accordance with national and international standards and regulations. And, of course, we stick to every customer-specific requirement. What's more, we take special regulations governing base plates and pipelines into consideration too – such as any associated welding and acceptance specifications.
Production sites all over the world
DASHPROJECTS manufactures systems at various sites all over the world. As a result, we can provide spare parts and services wherever you are across the globe. This ensures that our pump skids are always obtainable – keeping your production work running. We guarantee long, continuous operating times as well as cost-effective, rapid maintenance on site.
Outstanding service around the clock
There for you when you need us: Our global commissioning and consultancy services are available 24/7. You'll have constant access to a qualified contact person who will take the time to give you expert advice on anything you need to know about. Contact dash@dashinspectorate.com or call whats app 00971508692438